On August 9, 2017, Bernie Marasco, co-founder of AceReader, Inc. teamed up with Professor Constance Leonard and Dr. Gary Mills, both of the U.S. Air Force Academy, to present an in-depth seminar entitled "'Read' Warning: Side-effects Include Retention, Engagement, & Prolonged Intellectual Arousal" at the 2017 COLTT conference in Boulder. The USAFA has been using AceReader in its classrooms for the past eight years.
The COLTT conference was designed to "engage participants in learning about teaching practices and technologies, challenging the way they think about both. By attending sessions and hands-on workshops, attendees are able to network and gather effective practices that change the way they teach and learn in classrooms, online, and in virtual environments."
The learning objectives for the AceReader/USAFA seminar were:
Participants will be able to evaluate relevant activities for their own classroom practice.
Participants will learn and practice new software and phone apps.
Participants will learn their current reading rate.
The session offered practical techniques for instructors to help students improve their reading skills in three key areas: speed, comprehension, and recall. Proven techniques such as previewing, visualization, the traits of good readers, clustering, and using a pacer were shared with the attendees. The technology component centered on interaction with AceReader®, an online reading engagement experience, as well as other platforms such as other phone apps.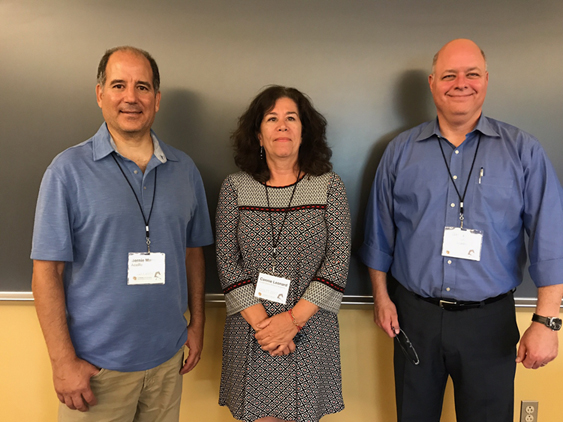 [From left to right] Mr. Bernie Marasco, AceReader, Inc., education and software employment specialist; Professor Constance A. Leonard, USAFA instructor, English for Academic Purposes, Reading Enhancement and Learning Strategies; Dr. Gary Mills, USAFA Reading Enhancement and Department of English and Fine Arts faculty member.
To learn more about AceReader, contact Bernie Marasco at info@acereader.com or go to www.acereader.com. To find out more about the COLTT conference, go here.