[Editor's note: This post is part of a continuing series on how writers craft words to express their ideas and to connect with readers.]
"I seriously doubt I would ever have written the first story had I not been a lawyer. I never dreamed of being a writer. I wrote only after witnessing a trial," commented John Grisham, a practicing attorney and one of the foremost legal fiction writers in the world.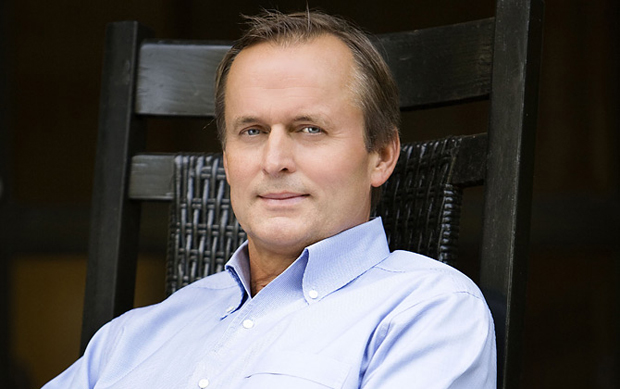 Grisham was born in Jonesboro, Arkansas in 1955. His parents had little formal education, but they always encouraged him to become educated himself. Growing up, though, he dreamed of becoming a Major League baseball player; however, he had to face the fact that he didn't have the necessary skills to pursue that career. Still, baseball remained one of his great loves in life. In his novel A Painted House, which contained strong autobiographical elements, the seven-year old protagonist fervently hopes to become a baseball player. But, as mentioned in the forward to Calico Joe, Grisham gave up playing baseball when he was 18, when a hostile pitcher aimed a pitch at him and he narrowly avoided serious injury.
It took Grisham a while to find his footing; he attended three different colleges before he finally obtained his B.S. degree from Mississippi State University in 1977 — in accounting. Still unsettled, Grisham attended the University of Mississippi School of Law, where he graduated in 1981 with a J.D. degree. Though he initially had his sights on being a tax lawyer, he changed his mind yet again to pursue general civil litigation and then went on to criminal law. He set up a small legal practice in Southaven, Mississippi, where he specialized in criminal defense and personal injury litigation for almost a decade. In 1983, he was elected to the Mississippi House of Representatives and was appointed to Vice Chairman of the Apportionment and Elections Committee in his second term. He served in this capacity until 1990, when he left law to write full-time.
Grisham's first novel, A Time to Kill, was inspired by testimony he heard from a twelve-year-old rape victim at the DeSoto County courthouse in 1984; he wondered what would have happened if her father had sought revenge by murdering the perpetrators.  He spent three years getting up at 5 a.m. every day to get in a couple of writing hours before heading out to work. When he submitted the completed manuscript for publication in 1987, he was rejected outright by 28 different publishers. It was finally picked up by Wynwood Press, a small publisher, who agreed to put out a limited run of 5,000 copies. Since the agreement also left Grisham without the help of a big publisher's marketing push, he had to personally request booksellers to add the novel to their shelves.
The whole experience might have ended Grisham's budding career right then and there, but he was already one step ahead. The day after he finished the manuscript for A Time to Kill, he started working on a second novel, this one called The Firm. He chose not to seek re-election, he closed his Southaven law office, and he moved to Oxford, Mississippi to spend more time with his family and to concentrate on his writing. The Firm, which followed a young hotshot attorney lured to a supposedly "perfect" law firm, only to discover things were not what they appeared to be, rose to the bestselling novel of 1991, and it stayed on the top of The New York Times' bestsellers list for 47 consecutive weeks. Grisham also sold the film rights to The Firm to Paramount Pictures for $600,000, transforming him into a hot property among publishers, and the book rights were bought by Doubleday, a major publishing house.
Grisham followed this success with first The Pelican Brief, which hit number one on the New York Times bestseller list, and The Client, which debuted at number one; combined, these books' strong showings reinforced Grisham's reputation as the master of the legal thriller. Grisham's success even renewed interest in A Time to Kill; Doubleday republished it in hardcover, and Dell subsequently released it in paperback. This time around, it was a bestseller.
Grisham headed back to the courtroom for several months in 1996 to honor a commitment he made before he retired. He represented the family of a railroad worker who was killed after being pinned between two train cars. Arguing with the same passion and zeal of many of his books' characters, Grisham prevailed and earned a jury award of $683,500—the largest award of his career.
Since his first publication, Grisham has produced one novel a year, though he says it takes him only about six months to complete each manuscript. Nine of his books have been made into major Hollywood films. From 2001 onwards, Grisham broadened his writing scope from just the law to other subjects, particularly his lifelong passion of baseball. A Painted House (2001) was his first non-legal book, which he followed with Skipping Christmas (2001), Bleachers (2003), and Playing for Pizza (2007). The Innocent Man (October 2006) was his first work of non-fiction, and Ford County (November 2009) was his first short story collection.
In 2010, Grisham began to write a series of legal thrillers targeted at children aged 9 to 12 years old. The protagonist is one Theodore Boone, a 13-year-old who gives his fellow classmates legal advice on everything from how they can rescue an impounded dog to how their parents can stop foreclosure on their homes. He said, "I'm hoping primarily to entertain and interest kids, but at the same time I'm quietly hoping that the books will inform them, in a subtle way, about law." According to Grisham, the idea for the series came from his daughter. "My daughter Shea is a teacher in North Carolina," he told an interviewer. "And when she got her fifth grade students to read the book, three or four of them came up afterwards and said they'd like to go into the legal profession."
Grisham believes in paying his success forward. He enthusiastically supports new writers through scholarships and writers' residencies in both the University of Mississippi's English Department and its Graduate Creative Writing Program. He also founded Oxford American, a magazine dedicated to literary writing.
Grisham's thriller Camino Island is set in the literary world, and a line from the book trailer reads: "The literary life can be more devious and dangerous than you think." However, that's not at all how Grisham feels about his own life. He says, "There is no devious and dangerous life. I've lived a charmed life, especially in the last thirty years since I've started publishing. … I am so fortunate to do something I thoroughly enjoy and still enjoy after a bunch of books." And judging by the way his books keep flying off shelves, the public still thoroughly enjoys reading his work.