[Editor's note: This post is part of a continuing series on how writers craft words to express their ideas and to connect with readers.]
"I definitely didn't feel I fitted in. I was awkward, uncomfortable, not terribly happy in the real world but incredibly happy in books. I used them as a survival guide and also as an escape. I dreamt of becoming a writer but it seemed complexly impossible, like dreaming of having invisibility or super-speed." So said the multi-talented comic book, television, and novel writer, poet, and voice actor Neil Gaiman in a 2017 interview with bigissue.com.[1]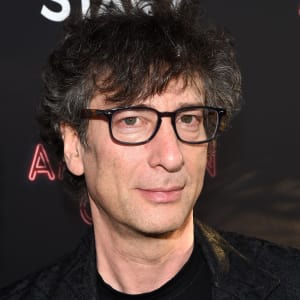 Neil Richard Gaiman was born in 1960 in Portchester, Hampshire, England. As a child, he was a voracious reader and spent a lot of time in libraries. His own writing style was heavily influenced by writers that include Edgar Allan Poe, C.S. Lewis, H.P. Lovecraft, J.R.R. Tolkien, Ursula K. Le Guin, and Samuel R. Delany. Some favorite books were Lewis' The Chronicles of Narnia series and Lewis Carroll's Alice's Adventures in Wonderland. He also devoured comic books, which stood him in good stead when getting his career off the ground.
In the early 1980s, he became a journalist, a position that allowed him to conduct interviews with a number of famous authors from the British Fantasy Society. There he learned a great deal about the writing process, and he made connections that, later on, would help to get his own work published. He also sold his first short story, "Featherquest," which appeared in the May 1984 Imagine Magazine.
In 1984, Gaiman wrote his first full-length book, a biography of the popular band, Duran Duran, followed by Don't Panic: The Official Hitchhiker's Guide to the Galaxy Companion based on Douglas Adams' wryly humorous and highly successful series.  He also discovered Alan Moore's massively popular comic Swamp Thing while waiting for a train, and the two men became friends. Gaiman started writing his own comic books beginning with "Miracleman," as Moore left the series. During this time, he also published three graphic novels with artist and long-time friend Dave McKean: Violent Cases, Signal to Noise, and The Tragical Comedy or Comical Tragedy of Mr. Punch.
In February 1987, DC Comics hired McKean and Gaiman to write the limited series "Black Orchid," which was published under the Vertigo imprint; it helped establish numerous comics titles with more somber, mature tones and with art gallery aesthetics. It attracted the attention of editor Karen Berger, who asked him to re-write "The Sandman" comic with his own spin, along with artist Mike Drigenberg. The book follows the title character, known as Morpheus/Dream, and his family the Endless, a group of primordial beings that include siblings Death and Delirium; it ran from January 1989 to March 1996, becoming one of DC Comics' top-selling titles. The book also received numerous Will Eisner Comic Industry Awards, three Harvey Awards, and a World Fantasy Award. In 2013, Gaiman returned to this universe with the publication of the collected edition of the series, Sandman: Overture, which won the 2016 Hugo Award.
Gaiman worked on numerous other comics projects, including two additional stories for DC's Secret Origins series: "Poison Ivy," drawn by Mark Buckingham, and "Riddler," illustrated by Bernie Mireault and Matt Wagner. He also wrote Green Lantern/Superman: Legend of the Green Flame in 2000, and a four-part mini-series about the DC Universe called The Books of Magic in 2001.
Gaiman headed into writing full-length novels in 1990, collaborating with Terry Pratchett on a book called Good Omens: The Nice and Accurate Prophecies of Agnes Nutter, Witch. His first solo novel, Neverwhere, debuted in 1996 and was the novelization of a BBC mini-series about a London underground society for which he did the teleplay that same year. He next turned to fantasy with 1999's Stardust, which was later adapted for the screen; and then, in 2001, published American Gods, a book seen through the eyes of protagonist Shadow Moon, where old world deities take on the newer gods of the United States.  It became his best-selling novel and won multiple awards. In 2005, Gaiman published the follow-up novel, Anansi Boys, which debuted at number one on The New York Times Best Seller List. Also debuting at number one was Gaiman's Norse Mythology in February 2017; having been inspired by Marvel Comics' cosmic take on the Norse gods as a child, he created his own version of the stories.
At the same time, Gaiman was busy writing for television and film. He wrote the screenplay for Beowulf in 2007; he wrote three episodes of the wildly popular Doctor Who series; and he wrote 31 episodes of the Lucifer TV series based on the characters he created for DC's Vertigo imprint, among other things. He's especially proud of "The Doctor's Wife," a script which "came from an idea I had watching it [Doctor Who] when I was about eight."
In addition to his adult novels, Gaiman also wrote notable children's books. 2008's The Graveyard Book stayed on The New York Times Bestseller Children's List for fifteen weeks. The Ocean at the End of the Lane was awarded "Book of the Year" in 2013 from the British National Book Awards. Perhaps his most notable children's book was Coraline, published in 2002. It won a Hugo Award for Best Novel; a Nebula Award for Best Novella; and a School Library Journal award. It was also adapted into an animated film that not only was a box office success but also won a BAFTA award and was nominated for an Academy Award.
So what does Gaiman think of all this success? "Time is a beef," he says." I wish I'd known how fast it goes. I wish I'd enjoyed it more. Stephen King … gave me the best bit of advice. He said, you know, you've got to enjoy this. This is magic. You do a signing and hundreds come. You're one of the most beloved comics writers in the world. Enjoy it. But I never did. I just worried. I worried it would all go away. I worried I'd break it. I still worry. I suspect it's how I'm built. The fear I can't do it is probably the driving force that keeps me writing."[1]
And what would he say to his awkward, hesitant younger self? "If I really wanted to show off to teenage Neil I'd show him my five Hugo awards. Those awards for science fiction would matter more to him than the Carnegie medal or any other award. The idea that grown-up Neil has Hugo awards, the younger me would think, wow, yeah, I came through."
Citations:
[1] Graham, Jane. (February 7, 2017). Neil Gaiman: "Stephen King gave me the best piece of advice but I ignored it." Retrieved from https://www.bigissue.com/interviews/letter-to-my-younger-self/neil-gaiman-stephen-king-gave-best-piece-advice-i-ignored/