[Editor's note: This post is part of a continuing series on how writers craft words to express their ideas and to connect with readers.]
"I think I'm very frightened of violence. I hate it. And it may be that by writing mysteries I am able, as it were, to exorcise this fear, which may very well be the same reason so many people enjoy reading a mystery." So said British author P.D. James, best known for her mystery series featuring Adam Dagliesh, Scotland Yard detective and published poet.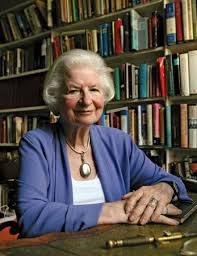 Born Phyllis Dorothy James in Oxford, England in 1920, her father was a tax collector who didn't believe girls should be educated. As a result, she left school at 16, initially following her father's career path even though she knew at that time both that she wanted to be a writer and that she was intrigued by mysterious death. She was fond of saying, "When I first heard that Humpty Dumpty fell off the wall, I immediately wondered: Did he fall – or was he pushed?"
In 1941, though, James met and married Ernest C. B. White, a medical student; at the same time, England entered World War II, and James entered service as a Red Cross nurse. Together, these events halted her plans for a writing career. Her life was further complicated when her husband returned from military duty with a mental disability, most probably schizophrenia. As he was confined to hospitals until his death in 1964, it was up to James to support the family. She went to work for the National Health Service and attended classes in hospital administration. After he died, she took a Civil Service examination and became an administrator in the forensic science and criminal law divisions of the Department of Home Affairs. It was the perfect place to acquire the realistic procedural details she displayed to great effect in her work.
It took James three years to write her first mystery novel, Cover Her Face, published in 1962. She worked early each morning for hours before going to her hospital job, as well as on her commute. Three of her early novels, A Mind to Murder (1963), Shroud for a Nightingale (1971), and The Black Tower (1975), all contain realistic hospital settings, no doubt drawn directly from her National Health Service experience. She wrote under the name P.D. James as she wasn't sure the public would read detective books if they knew a woman had written them.
James said she chose the detective-story form because she enjoyed reading detective novels — that, and because she thought she'd have a better chance of getting published if she wrote in a popular genre. In 1995, she told The Paris Review she thought "writing a detective story would be a wonderful apprenticeship for a 'serious' novelist, because a detective story is very easy to write badly but difficult to write well." After the success of her first book, she decided to stick with the form. "I came to believe," she said, "that it is perfectly possible to remain within the constraints and conventions of the genre and be a serious writer, saying something true about men and women and their relationships and the society in which they live."
James was frequently compared to genre authors who wrote in the golden age of the English mystery novel, the 1930s, and that rankled her. "That kind of crime writing was dull," she once complained, "in the sense that it was unrealistic, prettifying and romanticizing murder, but having little to do with real blood-and-guts tragedy. One simply cannot take these as realistic books about murder, about the horror of murder, the tragedy of murder, the harm that murder does."
Although she rarely described the actual murder, the dead bodies in her novels never cease to make an indelible impression on the innocent bystanders who chance upon them. "To many of them, it's a really appalling and dreadful discovery," Ms. James said. "I think that the reader should share that horror and that shock, so I make the descriptions just as realistic as I can." She also led the reader down an uncertain path, so that he was never quite sure what was happening, and the murderer's discovery would come as a complete surprise. James knew that sudden shocks and twists would keep readers engaged, and they did.
Reviewers frequently praised James for "transcending the genre," but she felt the detective mystery as she wrote it was "a literary celebration of order and reason." The educated middle class in her novels grapple with the moral disorder a murder represents in their civilized lives, and the story, as it played out, was a modern morality drama by virtue of its affirmation of enduring social values. In turbulent times, she said, people turn to detective stories for reassurance as much as entertainment "because they do affirm the intelligibility of the universe, the moral norm, the sanctity of life."
"It seems to me," she continued, "that the more we live in a society in which we feel our problems — be they international problems of war and peace, racial problems, problems of drugs, problems of violence — to be literally beyond our ability to solve, the more reassuring it is to read a popular form of fiction which itself has a problem at the heart of it. One which the reader knows will be solved by the end of the book."
While this was true of her mysteries, James denied her readers the sense of a "completed" ending in her dystopian novel The Children of Men (1992), in which she presented a futuristic look at a society in which mankind can no longer reproduce itself. The story was adapted to film in 2006 by Oscar-winning director Alfonso Cuarón, and though somewhat different in tone from the novel, was met with critical success.
In 1983, James was awarded the OBE (Order of the British Empire), and in 1991, she was made a Life Peer (Baroness James of Holland Park), sitting in the House of Lords as a Conservative; she was quick to point out that the honor came not from her literary achievements, though they were many, but from her public service. In addition, she chaired the Booker Prize Panel of Judges in 1987 and was President of the Society of Authors from 1997 to August 2013; the latter position was first held by Alfred, Lord Tennyson and is considered the "ultimate honour" awarded by the British writers group.
James' last novel, Death Comes to Pemberley (2011), was an homage to her favorite author, Jane Austen, and was set six years after the events in Austen's Pride and Prejudice. The novel was adapted in 2013 as a television mini-series, shortly before the author's death at 94 in 2014.