[Editor's note: This post is part of a continuing series on how writers craft words to express their ideas and to connect with readers.]
Anne Perry is best known for her historical detective stories, especially the Thomas Pitt and William Monk series set in Victorian London, but she has had a long career combining murder puzzles with important social issues. What's interesting, though, is that her own life makes for an intriguing story all by itself, a story not known to most of the world until 1994.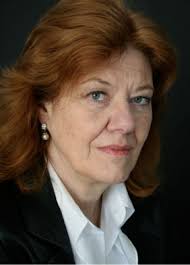 Perry was born Juliet Marion Hulme in 1938 in Blackheath, London. She's the daughter of physicist Dr. Henry Rainsford Hulme, known for his work for the British hydrogen bomb program. Hulme was diagnosed with tuberculosis as a child and sent first to the Caribbean then to South Africa, in hopes that warmer climates would improve her health, which they did. She met up with her parents again in New Zealand when she was 13.
Upon her return to England, Hulme decided to become a writer and took her stepfather's surname for her pen name (we'll come back to this part of the story in a little bit). For years she tried to write straight historical fiction, supporting herself with a number of different jobs such as a flight attendant, a limousine dispatcher, and an insurance underwriter. However, she had little success. Then her stepfather shared a theory about Jack the Ripper's identity with her; she found the speculation intriguing, but she also knew the topic had pretty much been written to death. Instead, Perry says, she wanted to focus on "the effects of the pressure of criminal investigations, including the change [that they cause to] relationships, with some old ones eroded, even as new ones are formed," and the question, "How well do I really know anyone else?"
The Cater Street Hangman was Perry's first novel, published in 1979. In it, she created her very own serial killer and the Scotland Yard Inspector, Thomas Pitt, who investigates him. The case also involves his future wife Charlotte's family. Thomas and Charlotte come from very different backgrounds, yet their relationship succeeds. She was born into wealth and lowered her social status with her marriage to Thomas. He was a gamekeeper's son who rose through the police ranks to become a commander. In 1990 she introduced another character, William Monk, in his own series set earlier during Queen Victoria's reign.
In both the Pitt and Monk books, Perry combines hard-edged storytelling with intense depictions of poverty and despair. But while Monk shares Pitt's humble beginnings (he's the son of a fisherman), his career took a different path. Pitt climbed to the very top of the police force ladder; Monk, however, was fired for insubordination, forcing him to work as a private investigator. After a head injury destroyed his memory, he lost the job, but upon recovering, he accepted a position with the Thames River Police. In that capacity he's seen his fair share of society's underbelly. Perry observes that, tragically, "many of the social problems that Monk and Pitt deal with are still with us today."
Anne Perry works 12 hours a day, six days a week (she takes Sundays off), year in and year out, and the numbers support that effort. In almost four decades, she's not only written about 60 Pitt and Monk novels, but she's also penned five World War I mysteries, two faith-inspired epic fantasy novels exploring the meaning of life, 11 mystery novellas with Christmas themes, three YA novels featuring time travel, two adult historical fiction tales set in late-18th century France, and another set at the end of the Byzantine Empire. And quantity of work has not come at the cost of quality. She's won major mystery awards, including an Edgar Allan Poe Award and two Anthonys, which demonstrate the esteem of fellow writers and fans alike. And she's a popular favorite, regularly appearing on the New York Times bestseller list.
And here's where Perry's backstory gets interesting — and quite shocking. While at school in New Zealand, Juliet Hulme and classmate Pauline Parker developed an intense friendship, creating their own fantasy world and becoming inseparable. When Hulme's parents divorced, she was supposed to move with her mother to South Africa. Parker wanted to come along, but her mother, Honora Rieper, said no. Together, the girls hatched a plan. While the three were out walking one day, Parker beat her mother to death with a half-brick wrapped in a stocking, the brick provided by Hulme. The girls, both 15, stood trial in Christchurch in 1954 and were found guilty of murder and conspiracy. Too young to be considered for the death penalty under New Zealand law, they were convicted and sentenced to five years of jail time, served at separate facilities. They were released separately five years later with the condition that they never have any contact again.
These events formed the basis for Peter Jackson's (The Lord of the Rings trilogy) 1994 film Heavenly Creatures. A renewed interest in the sensational case led to the "discovery" that Anne Perry, now living in the Scottish Highlands was really Hulme. Academic and literary biographer Joanne Drayton who had lived in Christchurch at the time of the murder, released a biography of Perry in 2012.
"I felt compelled in a way to challenge the way that she was perceived," Drayton said. "It just seemed to me you can't leave someone in a prison of association forever. You have to acknowledge that someone has moved on and changed and evolved and developed a useful contributing life apart from the thing they got horribly wrong." Drayton approached the project as a literary biography rather than a true-crime account, and she analyzes how Perry's novels echo the author's own life with their themes of redemption, moral grey areas, and a sort of feminism. It's in her books that she creates a world in which characters can be redeemed.
Though Perry was unquestionably upset at the revelation of her past life, she has persevered. A devout Mormon since 1968, she believes in free will, and that allows her to hope for spiritual progress for herself and for humanity at large. Through her works of mystery and fantasy, she hopes to make a difference in her readers' lives by showing them "something of the human condition — a wisdom and compassion, an understanding of life that enables feeling empathy for people whose paths may be very different from our own."